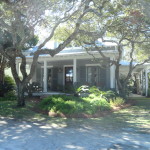 With its plentiful dining and entertaining options, miles of outdoor hiking and biking trails, and pristine white sand beaches, Grayton Beach can easily be described as both a nature lover's paradise and vacation seeker's dream destination. 

View ALL Grayton Beach Homes for Sale
Grayton Beach Homes for Sale Under $1,000,000
Grayton Beach Homes for Sale $1,000,000-$2,000,000
Grayton Beach Homes for Sale Over $2,000,000

View Grayton Beach Lots and Land for Sale


Located along Florida's Scenic Highway 30A conveniently halfway between Destin and Panama City Beach, Grayton Beach offers something for everyone, from couples looking for a cozy, secluded getaway to families looking for a vacation spot with all the amenities of home. Ranked annually as one of the most magnificent beaches in the United States, Grayton Beach Homes for Sale features an eclectic mix of charming bungalows and cottage homes and larger, more modern builds as the area has become a hotspot for vacationers in recent years.

The most noticeable attraction of the area is Grayton Beach State Park, a 2000-square-foot area that features several hiking trails, bike paths, picnic areas, campgrounds, both freshwater and saltwater fishing areas, and plenty of other activities to satisfy anyone wanting to enjoy the great outdoors. For those seeking a different type of waterfront view, Grayton Beach offers some of the most spectacular views of the Gulf Coast with its crystal clear waters and sparkling sand that are the perfect setting for enjoying an early morning sunrise or breathtaking Florida sunset.
Along with its beautiful beaches and scenic nature areas, Grayton Beach also features an impressive number of dining, shopping, and entertaining options, most within biking or walking distance for residents and visitors. Visitors can also enjoy the areas many antique stores, clothing boutiques, and funky art and jewelry galleries, as well as shops to pick up your own official 30A and South Walton (or "SoWal" as it is known by some) gear.
While other communities in the South Walton area have trended towards larger-scale residential and commercial properties to accommodate the growing number of visitors and new residents, Grayton Beach Real Estate has been able to maintain much of its laidback and relaxed atmosphere that attracted many of its residents to the area decades ago and continues to draw people to the area. The small, quarter-square-mile community has seen much more limited growth than many of its neighbors, due in part to its proximity to the state park and the desire from its residents to maintain the community's originality and close-knit feel.
Grayton Beach is the ideal location for any visitor, from those seeking a secluded vacation hideaway to those looking for a quieter place to get away but still wanting access to upscale dining, shopping and entertainment venues and plenty of family-friendly activities. One visit to Grayton Beach and you'll see why many of its residents have settled down in the area with no intention of leaving any time soon.
Be sure to spend a sunset strolling on the beach before visiting the famous Red Bar, the most popular spot in the area. The Red Bar is a favorite for locals and tourists alike. Enjoy great fun with friends and family while listening to live music and enjoying great food and drink.
Browse Our Selection of Condos and Homes For Sale in This Historic Community of Grayton Beach Florida
There is no longer a need to drive to Destin for your deep sea fishing trip. There are several private boats that leave the Grayton Beach area each morning.
Grayton Beach is home to the natural beauty of Grayton Beach State Park, along the Gulf of Mexico and most of Western Lake. The Grayton Beach hiking trail is one of the most scenic in the area, circling sand dunes, skirting the coastal dune lake, and cutting right through a dense oak hammock. A public dock allows boating and fishing.
If you would like to learn more about the Historic town of Grayton Beach Florida, please contact Homeson30a.com today
Interested in Selling, The Grayton Beach Real Estate Market is constantly changing. Contact Homes on 30a Today for your Free Market Analysis of your Grayton Beach Florida Home or Call 850.687.1064