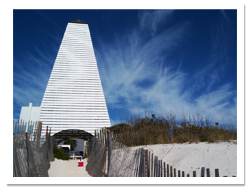 View Seaside Florida Homes for Sale
View Seaside Florida Condos for Sale



With its picture perfect pastel cottages and white picket fences, Seaside,Fl seems to be a snapshot straight out of a movie. Its traditional Florida-style homes and simple, down-to-earth charm bring flocks of visitors to the small 80-acre community each year. Despite being one of the newer communities along 30A—its major development didn't begin until the early 1980s—Seaside has quickly become the vacation destination for beachgoers across the Southeast and beyond and was even named "The Best Beach for Families" by readers of Travel and Leisure magazine.
During its creation, the community of Seaside Florida Real Estate was developed based on the architectural movement of "New Urbanism" which seeks to embrace the idea of creating communities that are sustainable, compact, and easily walkable by its residents and visitors, explaining the abundant number of sidewalks, trails and sand walkways and pathways around town. Residents and visitors of Seaside are able to enjoy spending time with family and friends in the many pavilions and the public spaces sprinkled throughout Seaside and around its town green area that serves as the community's central point from which everything else grows outward.
Like many of its neighboring communities, Seaside is home to many great restaurants, shopping venues, and entertainment spaces. Residents and visitors can enjoy all that the area has to offer all within a short walk or bike ride. Seaside is home to the ArtsQuest Fine Arts Festival, a weekend-long music and Fine Arts festival, held every Mother's Day and now going on its 26th year, where hundreds of international artists travel to South Walton to gather with other artists and promote their works both individually and collectively. The community also hosts several performances during the acclaimed 30A Songwriters Festival held each January in the South Walton area.
Seaside Florida captures all the amenities of a big city vacation but with small town charm. For those seeking a vacation where all the amenities of home (or away) are just steps from your door, Seaside is where you belong.
If you would like to learn more about the Community of Seaside Florida Real Estate or take a tour, please contact Randy or Karen Holder.
---
We serve the following States, Cities, Zip Codes and Counties:
Highway 30a Florida, Florida, Watercolor, Rosemary Beach, Seagrove Beach, Santa Ross Beach, Grayton Beach, WaterSound, Alys Beach, Seaside, Seacrest Beach, Sandestin, Blue Mountain Beach, Carillon Beach