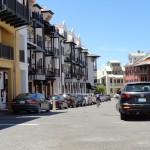 Let's go see Rosemary Beach today. What a beautiful day to spend shopping, dining and exploring one of my favorite places… 30A's very own Rosemary Beach. I started my day with a great cup of coffee at Amavida (the best cafe ole' in all of SoWal). Across the street a serious game of bocce ball was just getting under way. I decided to join in the fun and despite my best efforts, a group of 6 year olds beat me.
Town Center and Shopping
I decided that some shopping therapy coupled with chocolate fondue desert at La Crema Tapas and Chocolate would be just the cure for my bruised ego. I was right! Although, I do have one small request from GiGi's Fabulous Kids Fashion and Toys: Could you please order the camouflage whole piece  bathing suit with a pink heart in adult sizes?
I spent the rest of the day relaxing on the most beautiful beach. An afternoon at the beach in Rosemary is the perfect way to spend a Spring Sunday! Rosemary Beach offers so many activities and events for all ages. There aren't many weekends you can drive through without the beautifully manicured lawns being filled with people. Rosemary's easy beach accesses, the positioning of the 4 community pools and the town center located on the North and South sides of 30a make this such a family friendly and walk-able community.
Rosemary Beach Real Estate
The real estate and community of Rosemary Beach offers a tranquil setting, designed to reflect a community of the past. With pedestrian walkways throughout the community, lined by beautiful architecture, it's no wonder that Rosemary Beach is among the most sought after coastal real estate.  The real estate market offers opportunities from condominiums and townhouses to Gulf View homes. We have provided a complete list of all real estate listings by price and type of property for you. We hope you love Rosemary Beach as much as we do!