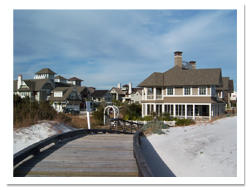 Located on Northwest Florida's Gulf Coast, WaterSound Florida was created on 256 acres of rolling dunes and grand landscape. With over a mile of beach frontage, WaterSound Real Estate Florida captures the essence of seaside living. A private retreat that is just now beginning to grow, this community promises to be one of the ultimate destinations for 30-A living.
Watersound  Homes for Sale Under $800,000
Watersound Homes for Sale $800,000-$1.5 Million
Watersound Homes Homes for Sale Over $1,500,000


Enjoy all the privacy that a gated community has to offer, while taking advantage of so many amenities. Stroll along one of the many pathways and boardwalks through the dunes to the shimmering sands and emerald waters of the Gulf. Watersound is the only development along the 30a corridor that is surrounded on 3 sides by State Preserve, which shelters this development in perpetuity from any development.
Enjoy a New Watersound Florida Condo or Home For Sale Along the White Sandy Beaches of Scenic 30a
Watersound Florida owners have the opportunity to be a part of the WaterSound Private Beach Club designed by Dungan Nequette. The club sits among the dunes with stunning coastal views and offers exclusive access to private beach, a 7000 square foot freeform pool with a special children's area and bubble jet water feature, ample terrace and decks for sunning and relaxing, a full service restaurant, exhibition kitchen, indoor and outdoor terrace dining, and full service bar.
Video: Watersound Beach Real Estate
If you would like more information about the town of Watersound Florida, please contact Homeson30a.com.
About Watersound Beach
The Highway 30A area of South Walton County in Florida's panhandle has experienced an incredible amount of up-scale development along this stretch of beach located mid way between Destin and Panama City Beach. The St. Joe Company has been the primary force behind most of this development, gathering world class architects and community planners to create some of Florida's most exclusive beachside communities. One of the jewels among this collection is Watersound Beach.
This amenity rich community is nestled among some of Florida's largest sweeping sand dunes and is surrounded on 3 sides by nature preserve and State forest which guarantees forever, the privacy that is yours at Watersound Beach. This scenic enclave, removed from the hustle and bustle of beach life, features an entire mile of gorgeous emerald green water that is the Gulf of Mexico lapping up against the glittering white sand found exclusively in this part of Florida. The beaches of South Walton County along Scenic Highway 30A have won numerous national and even international awards for their pristine beauty and accessibility to those who are lucky enough to live or vacation here.
With an entire mile of beach to call its own, Watersound Beach is a destination that many vacationers and the lucky few who call Watersound Beach home have come to cherish and enjoy.
Amenities and Architecture
One of the most distinctive features that Watersound has become known for is the architecture. These large, 5, 6 and 7 bedroom primary and secondary beach homes are designed after homes found in the Nantucket and Cape Cod areas of New England. These custom homes are replete with wrap around porches, high ceilings, genuine ships lap siding and authentic natural wood shingles, fireplaces, gas lantern lighting and much more making these homes priced from 1 million dollars and up, some of the most beautiful on any coast. Southern Living Magazine has featured the homes of Water sound in more than one of its publications.
Perhaps the most popular amenity within this development is the Watersound Beach Club. This private club has memberships available for purchase to home and condominium owners in Watersound. The Beach Club amenities are many including bath houses and day lockers, tennis court facilities with lessons and youth clinics available, the Sunset bar with awesome sunset views of the Gulf of Mexico, a full service fine dining restaurant featuring an exhibition style kitchen, the centerpiece of this club being the 7,000 square foot free form swimming pool with direct beach access.
Watersound West Beach, conceived and developed over the last 3 years, is immediately West of the original Watersound area and shares in the same old growth forest and native vegetation that frames the boardwalks, green spaces and walking trails found throughout.
Real Estate in Watersound West Beach
This 200 home beachside neighborhood features custom built cottage style homes with natural wood shingles, deep porches and top of the line custom finishes throughout the living space. These homes are priced from the mid 6's up to 1 million dollars all bordered by the almost 2,000 acre Deer Lake State Park. The numerous amenities enjoyed by residents and guests in Watersound West Beach include a large, very private swimming pool surrounded by an outdoor fireplace and grill area perfect for the family or entertaining friends as well. A very popular spot within the community is the puttering park which is a 9 hole miniature golf course enjoyed by parents and children alike. The Watersound West Beach community also features deeded gulf front/beach access to all homeowners.
Watersound North
Watersound North is located several miles North of the main community just to the North of Highway 98 not more than a 5 minute drive away. This coastal inland community features more custom built old Florida style homes moderately priced with the same architectural style, interior design, custom features and pleasing aesthetic that is found throughout water sound. The center piece of this community is the Davis Love III's Origins golf course. This beautifully manicured 9 hole executive course offers monthly as well as yearly memberships and is ideal for entire families as well as beginners.
Watersound Beach has become a destination for the discerning vacationer as well as those who choose this private, gated community to call their home. Just a short drive from the front entrance is all of the shopping, dining, kayaking, Yolo boarding and other beach activities that this 18 mile stretch of beach has become known for.
WaterSound Florida Community Map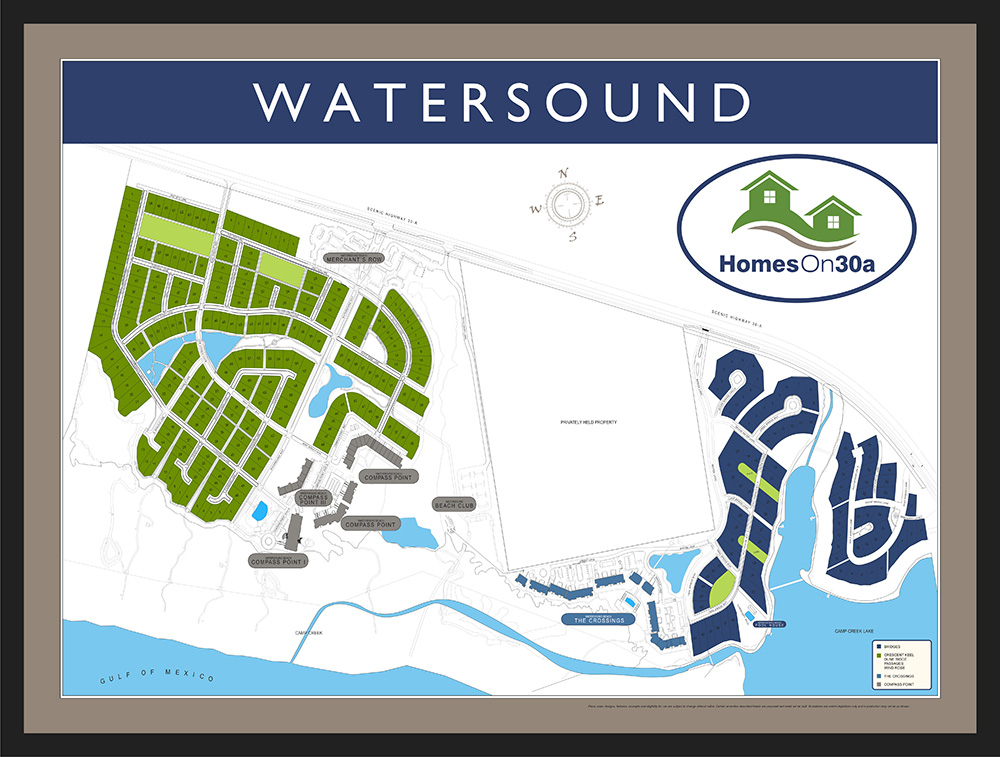 Interested in Selling, The Watersound Real Estate Florida Market is constantly changing so Contact us today to get the Value of your Watersound Fl Home or 850.687.1064