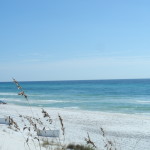 HOME MORTGAGES, THINGS TO THINK ABOUT
Most all of us are well aware of the mortgage debacle this country went through from 2005 through 2011. We are still seeing some of the effects of the crash even today in the form of short sales and bank foreclosures. The number of these are continuing to decline, especially here along 30A
Another huge change we have seen because of the crash, is a tightening in the mortgage loan industry. Here are a few things to keep in mind if you are a buyer in today's market and looking to purchase a property here in South Walton County.
If you are an out of state buyer, as many people are, we strongly advise you to use a local, in-state lender to finance your purchase. We have many "higher asset" level buyers who do not heed our advice because they have had a great relationship with their local lenders and have been great customers for years. There are many out of state lenders who even promise up front that financing will not be a problem. Several weeks down the road, or even just before closing, there are hurdles that come up that prevent the transaction from taking place. These are extremely stressful situations that often times can not be fixed and make for very unhappy buyers. Not a good thing to experience ! Local lenders are more familiar with the local markets here and have loan products that are often "tailored" to our area.
The most important factor is whether or not the loan is a "portfolio loan" or not. Lenders who have money to lend on loans that will remain "in-house" have far more latitude in making these loans than they do in making loans that must qualify to be sold on the open market. These loans must meet Fannie May and Freddie Mac standards which do not take in to account just your ability to pay or your good standing with a lender.
Be prepared to put down at least 20% of the purchase price in cash, especially on a second home. Most lenders today are telling borrowers to be prepared for around 45 days to get the entire financing process completed and the purchase closed. Other things to be prepared for is full documentation during the application process which includes tax returns, personal financial statements, bank statements, proof of funds letters, etc.
We go to great lengths here at Homes On 30A to assist buyers in this process. Using a Homes On 30A agent will give you the peace of mind that there will be no "surprises" down the road to sabotage what should be an exciting time in your life; becoming a homeowner here along 30A.
If you are looking to purchase and property along hwy 30a and need an agent that offers Full Service then contact us today 850.687.1064