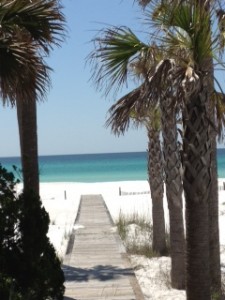 THOUGHTS ON TODAY'S REAL ESTATE MARKET……
AS AGENTS HERE ON THE BEACH, 95% OF OUR CLIENTS ARE FROM OUT OF STATE AND THE FIRST TWO QUESTIONS WE ALMOST ALWAYS GET ASKED ARE "HOW'S THE MARKET THERE ?" FOLLOWED BY "I AM LOOKING FOR A DEAL". LETS SKIP THE USUAL 'SPIN' AND LOOK AT THE NUMBERS; AFTER ALL, NO MATTER WHAT MARKET YOU ARE LOOKING AT, NOTHING IS QUITE AS TELLING AS THE MATH.
YOU'VE PROBABLY HEARD THE PHRASE "ALL REAL ESTATE IS LOCAL" AND IT'S VERY TRUE. WHETHER YOU ARE WATCHING FOX OR CNN OR READING THE WALL STREET JOURNAL OR ANY OTHER NEWSPAPER, KEEP IN MIND THAT OUR MARKET HERE ALONG 30A IS NOT THE SAME AS SAY ATLANTA OR HOUSTON OR PHOENIX OR EVEN SOUTH FLORIDA ! WE CERTAINLY WENT THROUGH A "CRASH" BACK IN LATE 2005 BUT THE NUMBERS ARE CLEARLY INDICATING THAT WE ARE TRENDING OUT OF A DEPRESSED MARKET HERE. FOR STARTERS, THE AVERAGE TRANSACTION ALONG 30A IS 4 TIMES THE NATIONAL AVERAGE.
INVENTORIES ALONG 30A CONTINUE TO SHRINK WITH A 31% DROP IN JUST 1 YEAR ! THE AVERAGE DAYS ON THE MARKET THIS YEAR HAS DROPPED FROM 250 TO 220 AND THE SALE PRICE TO ASKING PRICE HAS RISEN FROM 89% IN 2011 TO 92% FOR 2012.
ANOTHER KEY INDICATOR THAT THE EXPERTS USE WHEN EVALUATING THE MARKET IS HOUSING STARTS. HERE IN NORTH FLORIDA, HOUSING STARTS ARE UP 18% OVER LAST YEAR. WE HAVE SEEN LOCAL BUILDERS PURCHASING LARGE TRACTS OF LAND IN OUR PLANNED DEVELOPMENTS FOR THE PURPOSE OF BUILDING "SPEC" HOMES. THIS IS A HUGE POSITIVE FOR OUR MARKET.
BANK FORECLOSURES AND "SHORT SALE LISTINGS" CONTINUE TO DWINDLE HERE ALONG 30A. WHEN THEY DO HIT THE MARKET, THERE ARE TYPICALLY MULTIPLE OFFERS MADE WITHIN JUST A FEW HOURS WITH THE HOME SELLING ABOVE THE ASKING PRICE. THE LESSON FOR PROSPECTIVE BUYERS HERE IS THAT YOU CAN STILL TAKE ADVANTAGE OF "A GOOD DEAL" BUT YOU HAD BETTER HAVE YOUR FINANCING READY AND BE PREPARED TO "PULL THE TRIGGER" FAST IF YOU EXPECT TO GET A "DEAL" IN THIS CHANGING MARKET.
THERE IS NO "CRYSTAL BALL" THAT ANY REAL ESTATE AGENT CAN LOOK AT TO ASSESS THE FUTURE OF OUR MARKET BUT HERE'S WHAT I KNOW; DEMAND IS UP, SUPPLY IS DOWN, MONEY IS CHEAP AND THE BEACHES ARE BEAUTIFUL !!!