Arts and Music Festival by the Sea on 30-A
130 international artists exhibiting in over a dozen mediums will fill downtown Seaside, FL for two and a half days, along with great live music, artist workshops and demos, KidZone and fabulous food & beverage options provided by the Merchants of Seaside!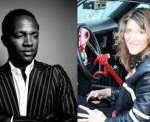 "Songs on the Lawn" to feature David Ryan Harris & Michelle Malone
Recently seen and heard at the 30A Songwriters Festival, David Ryan Harris and Michelle Malone will return to South Walton for a one-night-only performance for ArtsQuest's "Songs on the Lawn," a new event that will take place in the beautiful outdoor listening room of Ruskin Park. This is a ticketed event, and all proceeds benefit the CAA.
Purchase tickets online at ArtsQuestFlorida.com or by calling 850-622-5970.