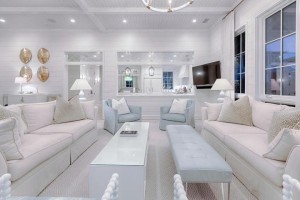 There's more that makes a beach house than simply being near the beach. The best beach houses bring the relaxing feeling of the beach to your front door, making your beach house the perfect place to unwind. The question is: How do you create the perfect beach house?
Cool & Calming Color Palette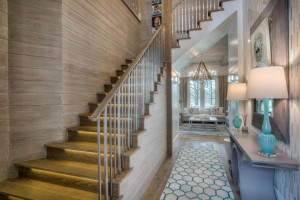 Cool tones such as soft grey, light blue, seafoam green, and sandy beige paired with crisp, clean white bring a feeling a calm to the living space similar to sitting on the beach soaking in your surroundings. Go with a stark white ceiling and trim to obtain a bright and airy feeling in the space.
Shiplap Walls
Shiplap walls are typically created with pine wood that often looks distressed. When installed in a natural wood tone, shiplap walls can bring an earthy driftwood look into your home. For a brighter, fresh look, paint the wood white instead; you'll still have the texture and look of the shiplap walls without the varying tones of wood.
Hardwood Flooring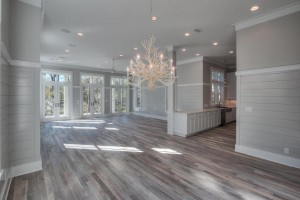 Hardwood flooring in lighter, distressed tones are perfect for recreating your memories of the boardwalk down to the beach. As far as practicality is concerned, cleaning sand up on hardwood floor is much easier than attempting to remove it from carpet.
Natural Decor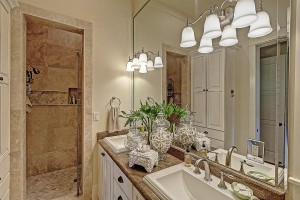 Shells, sand dollars, and pieces of driftwood or dry coral are excellent ways to bring pieces of the beach into your home. Use pieces you find yourself on daily walks on the beach to add a personal memory to your accessories. Instead of laying the smaller items around loosely, try arranging them in a glass bowl or jar to create a touch of art!
Saltwater Pool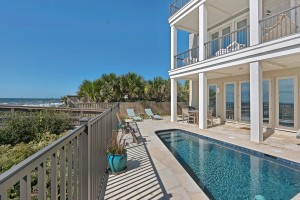 Installing a pool isn't possible for every beach home, but if you're considering adding a pool to your beach home, saltwater is the way to go. A saltwater pool allows you to enjoy the fresh, light feel of saltwater on your skin on days where a day spent on the beach isn't on your schedule.
Light & Simplistic Furnishings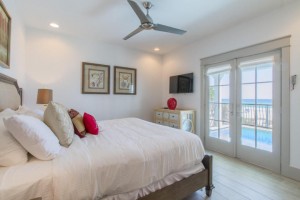 Keep the color of your sofa and chairs furnished in lighter colors such as soft beige, sand, or white to keep the feeling of the room light and easy on the eyes. Bed linens in plush whites create a mellow, relaxing retreat after a day at the beach. To add a subtle pop of color to the room, accessorize your furniture with patterned or solid throw pillows in complimentary colors.
French Doors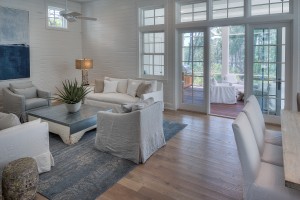 Much like the beach, the perfect beach house is drenched in natural sunlight. French doors are a great way to let in copious amounts of light and create a connection between your outdoor seating area and your living room.
Covered Porches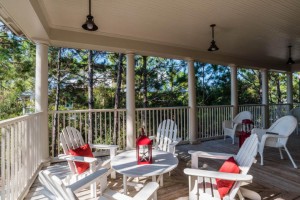 The best way to enjoy the evening after a long day at the beach is by relaxing outside on your covered porch, soaking in the sunset and fresh air. Bonus: Screen in your porch for warm summer evenings minus the bugs.
All homes featured in this blog are currently available for purchase.
For more information on these listings, please call 850-687-1064. Homes On 30A