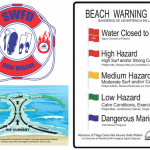 Beach Safety.We are committed to helping locals and visitors stay safe while enjoying our beautiful beaches. The beach is such a wonderful place to relax. At the beach, life is beautiful and we slip into a state of mind where we feel comfortable, carefree, and secure. That's what a vacation is all about!
However, the gulf waters can be dangerous and it's important to always put safety first.
Flag Warning System – Current Flag Conditions are Posted at 9 a.m. and 1 p.m. Daily at www.swfd.org.