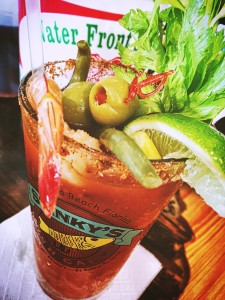 So here is the scenario: You have been enjoying yourself on the beach all week. You have swam in the Gulf, soaked up some sun, seen some great live music, and have done this vacation thing up right. You wake up Sunday morning and are wanting brunch…and more specifically…a Bloody Mary. Let the locals here at Homes On 30A guide you to the best Bloody Mary of your life.
1) Starting at the West End of Scenic Highway 30A you will find a place called Stinky's Fish Camp. Don't let the name fool you, this place is an absolute gem. If a restaurant is constantly packed during the OFF season, you know it is going to be good. But let's focus on the subject at hand – how is their Bloody Mary? This thing is AWESOME! And almost a meal in itself. Just the perfect amount of spice, and garnished with a big ol' shrimp, pickled okra, pickled green beans, and a celery stick. Come for the bloody mary, stay for the great food.
2) The Red Bar. The name and the location are as iconic as their Bloody Mary. This bar and restaurant are a staple of Grayton Beach. They have a very small menu, but they do everything on it exceedingly well. You can catch some of the best live music the area has to offer here too. Their full bar and friendly bartenders constantly attract locals and tourists alike. Their Bloody Mary is outstanding. Their own special recipe, it is nice and spicy, enough vodka to make you happy, and of course an amazing array of garnishes on top.
3) Centrally located in Seaside, The Great Southern Café draws quite a crowd. And rightly so, their food, and especially their shrimp and grits, is beyond delicious. The Bloody Mary however, is legen-wait for it-dary. A dash of horseradish gives some nice heat. The skewer of spiced beans, pickled okra, olives, and a pepperoncini give it some nice flavor and variety.
4) Finally we arrive at the Eastern end of Scenic Highway 30A. And for our Bloody Mary we will be heading to The Pearl – Rosemary Beach. The area's most luxurious hotel also has an incredible restaurant and bar. But just a standard Bloody Mary won't do for The Pearl, they have a Build Your Own Bloody Mary Bar! They provide the vodka and Bloody Mary base, then let you create the Bloody Mary of your dreams using their spread of pretty much every garnish you could ever want. Go ahead, make a work of art.
These are just a few of our favorite places to get Bloody Mary's. If you happen to find one in our area that just blows your mind, let us know, and we will join you!
And as always, never drink and drive. There is always a friend on 30A who will give you a ride home.