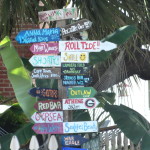 Find Out about Grayton Beach Florida Fishing
Most everyone who visits and vacations along Highway 30A here in south Walton County is familiar with Grayton Beach. This truly unique "old Florida" beach community was founded in 1890 and is one of the oldest communities in all of Florida.  Grayton is a great place to find a great rental property that will remind those of us who are a bit older of how things used to be when you went to the beach. Grayton Beach Florida Fishing is One of the more recent activities that is now available . There are no other charters available anywhere else from Destin to Panama City and this makes for some great fun without having to make the long drive both to and from Destin or Panama City.
These deep sea charters are available for half day and full day trips that launch directly from the surf at Grayton Beach. Those charters that are currently available are Fishy Booty, Trigger Happy, Dead Fish, Grayton Beach Fishing and Captain Phil's. All of these folks can be researched on google (GRAYTON BEACH DEEP SEA FISHING CHARTERS) which will give you a breakdown of their rates, departure times and a list of things to bring as well as a list of everything they provide. In the 23 years that we have lived here, we have been out deep sea fishing on several occasions and it has always resulted in lots of fish and a great time.  Here is a list of the different species that are found in abundance just off our shores here; red snapper, grouper, trigger fish, amberjack, red fish, mahi mahi, cobia (spring time), spanish and king mackerel, and of course there is always a chance you can hook a big shark or even a bill fish.
The next time you are vacationing not just in Grayton Beach, but anywhere along 30A remember that a great day of deep sea fishing is available right there in Grayton where the road turns left to the Red Bar.
Grayton Beach Homes for Sale Under $1,000,000
Grayton Beach Homes for Sale $1,000,000-$2,000,000
Grayton Beach Homes for Sale Over $2,000,000
Grayton Beach Residential Land for Sale
Search Grayton Beach Real Estate by Map