End of Summer on 30a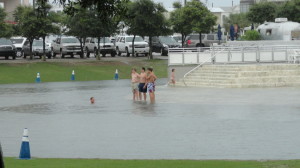 Even though the weather is still hot and Labor Day is not quite here yet, the Fall season has begun on 30A.  Most school sessions begin now during the second and third weeks of August and that's when the summer crowds begin to rapidly disappear.  We encourage you to come for a long weekend if possible for many reasons.  The water temperatures are still very comfortable through October and the seagrasses that show up during hot weather are almost always gone and the water in the Gulf is a brilliant emerald green.  The traffic along Scenic Highway 30A is much easier to deal with and our restaurants do not have the long waits you experience during peak times. Seaside, which is always a fun day during your stay, is far less crowded and all of the shops, restaurants, art galleries, etc. are open for business. As a matter of fact, most of the locals that call 30A home will tell you that their time at the beach is best spent during April and late September/October. The water and sand are beautiful, the fishing is still great and the heat is less oppressive.  For the golfers, the Fall here is a great time to take advantage of a quicker pace of play and at reduced green fees. The Tom Fazio designed Camp Creek Golf Club is an outstanding 18 hole championship course featuring full service food and beverage, complete pro shop and excellent practice facilities.  This course is open to the public and at reduced rates during the off season.
There are many events that take place along 30A in the Fall. From the Seaside Repertory Theater productions, various outdoor concerts that can be found at Watercolor, Alys Beach and Rosemary Beach, wine festivals, Seaside and Gulf Place farmers markets each Saturday, live music at the Red Bar in Grayton Beach. There are outdoor movies for children as well as classical music concerts at the Amphitheater in Seaside throughout the fall. Many musical concerts featuring live entertainment at venues all along Scenic Highway 30A to be enjoyed by the entire family with music that appeals to all tastes.
An excellent source for viewing all Fall events that take place here at the beach can be found by googling sowal.  This is a comprehensive website used by many people both locals and visitors alike where you can find events, live music, photos, videos, beach news, featured restaurants and even an interactive blog used by those who want to make a comment, post an event and share it with others or just read for the entertainment of some of the funny/crazy things that are said.
Less people, all the fun is the catch-phrase for the Fall here on Scenic Highway 30A.  See more about Scenic hwy 30a and 30a Real Estate