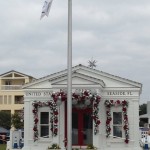 Holiday Season Events on Hwy 30a
As the Christmas Season on 30a approaches, there are many events taking place along 30A in celebration of the holiday season and a time when locals can take advantage of the opportunities to raise funds for a variety of worthwhile charities. Over the course of the next few weeks leading up to Christmas, we will highlight some of the more popular events…….
DIRTY SANTA BALL AT ROSEMARY BEACH…This might be the best holiday party in the entire area;  this Seaside Repertory Theatre's Dirty Santa Ball on December 6th (this coming Friday !) at the Rosemary Town Hall.  Dirty Santa Ball is a winter holiday soiree benefiting the Seaside repertory Theatre, the area's premier professional performing arts theatre located in Seaside, Florida and performing at various venues throughout the year on 30A.
Bid on beautiful Christmas trees by local designers and businesses, buy raffle tickets for a chance to play the dirty santa game and win some great gift baskets stuffed with gift certificates and presents. Eat, drink and wear your Christmas best ( or worst) and enjoy the festive time of the Holidays with friends and neighbors.
There are many prominent local businesses that are sponsoring this event. Tickets are $85.00. Time is from 7:00 PM on Friday, December 6th to 11:00 PM at the Rosemary Beach Town Hall. Call 850-231-0733 or purchase tickets online at Seasiderep.org.
Stay tuned for more announcements of fun stuff to do on 30A at Christmas time !!!