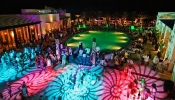 "For two evenings, Alys Beach opens its doors, courtyards and pedestrian paths to more than 3,000 guests. Digital Graffiti 2012 will expand from a one evening event to a two evening event, allowing for a more
personal experience each evening.
Friday night attendees will have the opportunity to stroll the town in a more subdued setting while being up close and personal with the amazing works while interacting with the artists who created the pieces along with volunteer docents.
Saturday night will continue to be the party that it has always been displaying art and ending with
the after party at Caliza Pool.
June 8th & 9th!