HWY-30A in Northwest Florida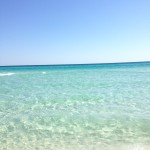 When we moved to the Highway 30A area in South Walton County back in the Summer of 1990, things were very different along this stretch of highway than they are today. We still enjoy a slower lifestyle pace that is found in most Southern towns but it is not like it was 25 years ago.  Today, this 18 mile stretch of beach highway is looked at by most locals as East end and West end. The center line dividing highway 30A would be Grayton Beach and Grayton Beach is neither East or West.  The West end of 30A is still very much like it was years ago.  There are some really nice, large condominium developments such as Sanctuary by the Sea and Sanctuary at Redfish, the beautiful, gated beachfront community of The Retreat and quite a bit of condo/shop development at  Gulf Place but there are long stretches of highway and neighborhoods that remain the same. The Santa Rosa Golf and Beach Club along with the Vue restaurant have been a mainstay along the West end for years. Dune Allen Beach and Blue Mt. Beach remain very much the way they were when we first moved here as well. The pace of daily life and activity on the West end is a bit slower and certainly less crowded than areas on the East end such as Seaside, Watercolor, Watersound, Rosemary Beach, Alys Beach, etc.  The East end has experienced an explosion of growth beginning with Seaside in the early 80's and really taking off in the 90's.
The West end of 30A remains today, very attractive to people who wish to own or vacation close to much of the activity but just far enough away to still enjoy the beautiful beaches with a little less population.  One of the great things about our area here is that you have this option of the West end of 30A  with it's quieter streets, more traditional beach neighborhoods or the East end with lots of amenity rich, up-scale development.  Either way, there is an abundance of rental properties available on either end and opportunities to purchase the "spot of your dreams" as well.
Summary
Article Name
Description
A description of HWY 30 a East and West. Communities that populate East 30A are many while west 30A still remains less populates.
Author