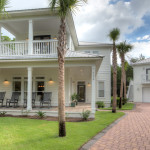 Listing Your 30a Home in the Spring?
Now is the time to start getting your 30a home ready to sell in the Spring, so let's talk strategy. Spring Break kicks off here along Hwy 30a around March 1st so now is the time to start thinking about what you can do to prepare the home to show the best. I encourage having the home ready for the local market no later than the second week in February so professional photos can be taken and the marketing campaign can begin.
First impressions are the most important thing so if your home needs to be pressure washed or the landscaping needs to be spruced up then take the time to have it done prior to listing the home. Upon entering your home, you want the home to smell fresh and inviting so a good deep clean should be completed. Decluttering your home is not a big expense and can make a big difference in making the home feel larger and more open. Some other simple solutions for a fresh clean look might be using white bedding, white slip covers and brightening up any dark areas of the home.
Most buyers will find your home first online so great photos and a well written description pointing out any special features of the home are very important. Most people searching for homes will look in this order: 1) price  2) pictures  3) written description. Pricing the home correctly is the most important part of selling the home and it doesn't take long to know if you have succeeded at this. With our low inventory levels,  If you don't get decent showing requests within the first 10 days then the price is too high!!
Here at Homes on 30a, we offer the latest and most unique marketing techniques available so before you list give us a call.