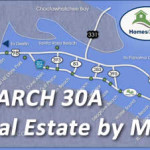 30a Real Estate in 2014
At about this time every year, we begin to see projections and predictions about the coming year in the real estate market.  Some of the typical economic indicators that drive the real estate market do not necessarily apply to our market here on the beach.  We have an exceptionally high level of second home purchases, a market that is not affected by the ups and downs of household income or even the rise and fall of interest rates.
The typical demographic of the property buyer here on 30A  has an age of between 35 and 75; a professional, executive or business owner with a higher asset level than average and a hefty level of disposable income. This buyer typically is looking for something he/she can enjoy with their families and perhaps subsidize some of the expense with short term rental income.  However we are seeing an increase in end use buyers who are not interested in placing their property in the rental market.
2014 will see a continuation of hopefully slow recovery. It is not sustainable to see property appreciations of much more than 3 to 4 percent yearly.  We have experienced a spike in property values during 2013 primarily due to the extremely low levels we reached during the collapse of 2005/2006. Inventories are expected to level off and begin to increase some this coming year which will halt the slide in inventories we have experienced over the last 2 years. It is very clear as we approach 2014 that it is no longer just a buyer's market and we will see more non-distressed properties hit the market due to higher prices. These are pretty much simple economic supply and demand factors in play; nothing complicated.
The Fed is expected to begin tapering the cash stimulus infusion into the market and interest rates will probably creep to and maybe a little above 5% sometime during the coming year.  Because of the up-scale market we have to sell here on 30A, this should not impact the level of demand we are enjoying.  Most buyers will weigh the advantages of borrowing (expense) vs the return they might get from other investments and determine that it is still a good bet to borrow at around 5%.
We are excited to now know that the worst of the real estate market collapse is behind us and we look forward to an active and successful year in 2014. Contact Homes on 30a for all of your 30a real estate needs