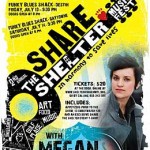 Benefiting partners, Shelter House of Northwest Florida and Alaqua Animal Refuge, recently announced two amazing pre-concert events that will take place this July, prior to the Share the Shelter Music Festival, to take place September 29. The first pre-party will occur at Funky Blues Shack in Destin on July 13, with the other party occurring at Funky Blues Shack in Baytowne the following evening of July 14.
Doors for both pre-concert parties will open at 8 pm. Musician, Megan McCormick, will headline both events. Tickets for these events are available for $20 each and include appetizers prior to the show, drink specials, and a special Share the Shelter event T-shirt.
Tickets for the main festival will also be on sale and available at each party for those attending. The remaining tickets will not be available to the general public until July 15. Last year's VIP section sold out and it is sure to sell out again this year.
Share the Shelter Pre-Party with Megan McCormick
Funky Blues Shack Destin
Friday, July 13 – 9:30 pm (doors open at 8 pm)