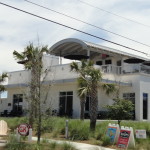 Get to Know Seagrove Beach, Fl
Given the tremendous growth and change that the entire Highway 30A corridor has undergone over the past 20 years, Seagrove Beach, Florida has become one of the most interesting areas along Highway 30A.
Seagrove Beach was named for the thick stands of windswept live oaks and the canopy and ground cover of magnolias, hickory and sand pine thickets that are indigenous to this particular stretch of beach front property. Seagrove Beach is one of the first areas that became a destination for people who began coming here after World War II in the late 40's and early 50's. Old timers here have told stories of this area being nothing but "scrub land and wild hogs". You could buy an acre for 5 dollars and nobody ever thought it would ever amount to much.  For years, the only way to get in was a footpath that came in from Point Washington.
The Seagrove Village Market was established in 1949 and remains today as an almost iconic landmark reminiscent of days gone by. The Flowers family owned and operated the Seagrove Motel and Cottages for many years before selling the property to developers. Now standing on this property is restaurant Whiskey Bravo, Cowgirl Kitchen and some local shops with new, gulf front multi million dollar beach homes being built across the street.  Seagrove Beach has become quite congested these days, especially during the summer months due to its central location directly east of Seaside and close to Watercolor. The next time you are driving through the Seagrove Beach area on your way toward Watersound or Rosemary Beach heading east, or Seaside, Grayton Beach heading west, slow down and take a look around. Seagrove Beach is still full of "old Florida"  style beach homes and cottages that were built in the 50's and 60's mixed in with upscale second home and vacation rentals that stay full for a good 8 months of our "season". There is an eclectic mix of the old and new to be found here with an array of beach shops and restaurants scattered along this beautiful part of 30A.
Seagrove Beach Homes for Sale Under $800,000
Seagrove Beach Homes for Sale $800,000 -$1,500,000
Seagrove Beach Homes for Sale Over $1,500,000-$3,000,000
Seagrove Beach Homes for Sale Over $3,000,000
Find Seagrove Beach Condos for Sale
Find Seagrove Beach Residential Land for Sale
Search Seagrove Beach Real Estate Listings by Map