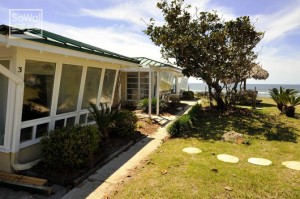 Seagrove Villas Motel No More.
The historic Seagrove Villas Motel has welcomed SoWal beach lovers for over 60 years, but the doors have closed and the neon sign dimmed for apparently the final time.
Soon all that will remain will be the memories for so many beach lovers who have stayed at the motel and villas over the years. Thankfully, a few of the cottages on the north side of Scenic 30A will remain as shops. Perhaps to some a sad reminder of sunny days gone by when they visited the motel as part of "Old Florida".
Since 1952, the Seagrove Villas has been a popular South Walton getaway and in many ways a reflection of real estate development in our area. The mom-and-pop motel started as a summer retreat with two concrete-block duplex cottages in the middle of nowhere. And what a magical nowhere it was back then — a 30-foot bluff right on the Gulf along a pristine stretch of the Panhandle beach, halfway between Panama City and Fort Walton, in the still unincorporated town of Seagrove. It was even marketed at the time with the clever catch phrase "where nature did its best."