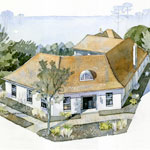 2012 Ultimate Beach House ROSEMARY BEACH!
Find all the information you will need to visit our 2012 Ultimate Beach House in Rosemary Beach, Florida late this summer.
Our 2012 Ultimate Beach House is located along the Florida panhandle's scenic Route 30A in Rosemary Beach. Easily accessible by air or by car, the town is a 30-minute drive from the Northwest Florida Beaches International Airport and a one-hour drive from the Fort Walton Beach Okaloosa Airport.
Location: 194 West Kingston Road, Panama City Beach, Florida, 32413.
Dates: June 29-Aug. 19: Wed-Sat 11-5; Sun 1-5
**Closed July 4th
Aug. 20-Oct. 7: Fri & Sat 11-5; Sun 1-5
Time: Wednesday-Saturday, 11am-5pm; Sunday 1pm-5pm.
Admission: Tickets are $15 per person and can be purchased at the house. A portion of the proceeds will benefit the Rosemary beach Foundation.