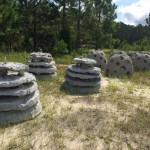 South Walton Artificial Reef Project
In July of 2015, South Walton Invested in Local Marine life and became the home of what would become a brand new underwater ecosystem for local wildlife: an artificial reef.
The group responsible for the deployment of the reef is the South Walton Artificial Reef Association(SWARA), which identifies itself as a grass-roots, non-profit 501(c)3 organization. They have  dedicated themselves to the construction, deployment, and monitoring of permitted artificial reefs in Walton County's Gulf of Mexico coastal waters. These reefs will be a huge benefit to the health of our environment and community by creating a habitat for marine life that has never existed this close to shore.
In total, the plan drafted by the founder of SWARA, Andy McAlexander, includes 18 reefs to be installed near the shore. In detail, the plan lists nine fish habitat and skin diving reefs, five oyster habitat restoration sites in the Choctawhatchee Bay, and four snorkeling reefs near the coastal sandbars.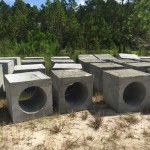 Currently, Walton County is last in the state to implement the deployment of artificial reefs however, SWARA hopes to change that with the launch of the additional reefs in Miramar Beach, Topsail Hill, and Inlet Beach to benefit the economy through increased ecotourism.
SWARA also hopes to help the South Walton community form a closer connection with the environment through awareness of the unique natural resources found locally. With the introduction of a reef ecosystem, visitors and locals of South Walton will be able to snorkel and SCUBA dive directly offshore. This will offer the unique opportunity to view various marine wildlife up close and should increase ecotourism and help make long-term positive contributions to the local community.
The environment benefits greatly from artificial reefs, as they provide a habitat for fish and oysters on the area's vast, flat seafloor. Creating a habitat for oysters in the Gulf is an extension of another one of SWARA's future long term goals: restoring the oyster population in the Choctawhatchee Bay.
To learn more about SWARA and for information on how you can contribute to the funding of South Walton's artificial reefs, visit www.waltonreefs.org.