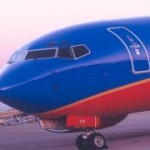 The Holiday Inn Resort Panama City Beach is excited to welcome guests from new Southwest flight out of St. Louis! As Southwest adds flight to Panama City Beach, this brings more new people to the area
Panama City Beach, FL (PRWEB) April 07, 2012
In 2010, Panama City Beach opened the Northwest Florida International Airport, and Southwest Airlines helped make the beach destination more accessible to vacationers from Nashville, Baltimore, Houston, Orlando, and Chicago. This year, Southwest will be adding a new seasonal flight from St. Louis!
"St. Louis travelers will have the option to fly, rather than drive, to Panama City Beach this summer, which many of our visitors may take advantage of," says Philip Colvin, Marketing Director at the Holiday Inn Resort. "We do have a great deal of guests that vacation at our resort from that area – many with small children – and with that longer drive time to the beach from St. Louis, a nonstop flight will probably be very appealing to those guests – and even more so with the lower cost carrier," says Colvin.
Southwest Airlines has officially announced that it is adding one new seasonal nonstop flight between St. Louis and Panama City Beach, FL as well as an additional nonstop service between St. Louis and Boston. Both of the new flights will begin June 3rd.
Today, Southwest is the busiest carrier at both Lambert-St. Louis International Airport and the Northwest Florida International Airport. "We're excited to see that Southwest is doing so well with flights to and from our area. We hope they continue to grow and make Panama City Beach even easier to get to from more markets," says Colvin.