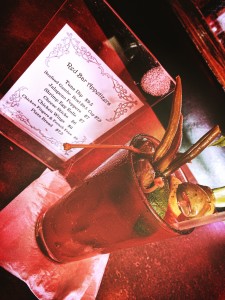 In this week's edition of "The Best Bloody Mary's On 30A" we will be taking you to one of the most iconic locations in the area – The Red Bar.
The Red Bar is located in Grayton Beach on Hotz Ave., the last street before you hit the sand of the beach. The location alone makes it a favorite of locals and beach goers alike. After spending a morning on the beach, it is nice to be able to walk right to a place that has great food, great drinks, and great music.
The Red Bar is owned by brothers Oli and Phillipe Petit. They are always very welcoming and fun to talk to. They have a short but varied menu that the servers will show to you on a chalk board. Even though there is only a handful of choices, there is something for everyone, and they execute each dish incredibly well.
Their world famous bar on the other hand is quite expansive. The bartenders are all experienced and friendly. They can make you anything you would like. For today's purpose of course, I ordered the Bloody Mary.
The bartender who made mine was named Tylor, and he recommended I upgrade the vodka from the well to something more top shelf. I whole heartedly agreed and picked Absolut from the varied choices he gave me. He then whipped up an incredibly delicious concoction. The Bloody Mary base was savory, but not too spicy. I could drink a couple and not worry about my mouth being on fire. As you will see in the video it had quite an array of garnishes: Celery, olives, pickled green beans, pepperoncini, and some sort of exotic olive that I have never seen before. Topped off with some old bay seasoning and I was ready to go!
Now, I am sure you are thinking of visiting the Red Bar. I sure hope you are, because you will love it. Before you go, here are some pro tips from a local:
1)      The Red Bar is cash or check only. They do have an ATM inside, but to avoid the hassle, be sure to grab some cash beforehand.
2)      When there is live music there, which there is often, it will get packed with people. Bring your patience and leave the claustrophobia at home.
3)      Parking: it is quite limited. Again, plan ahead and bring your patience. Don't even think about trying to park on any of the side streets. If there is a sign that says no parking, they WILL tow your car. If you are planning on enjoying the bar side of the restaurant and some live music, I highly recommend taking a cab. You won't have to worry about parking, and of course, you will have a safe way to get home.
4)      Don't drink and drive. Just don't.