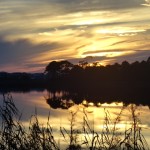 Read about Watercolor Florida's Latest Acknowledgement
Conde Nast Traveler is one of the world's premier travel/vacation magazine publications and also an award winning "on-line" web site specializing in travel tips, vacation ideas, destination information, top "go-to" lists, reader's choice awards and much more. Conde Nast has earned and enjoyed a world class reputation for over 100 years and the scope of their expertise is world wide.
How exciting it is to see that the Conde Nast " Readers Top Florida Resort Hotels" list  for 2013 has our own Watercolor Inn ranked as #3 on the exclusive list. This ranks the inn high among some very impressive company when one looks at the list of resort hotels that are ranked below the Watercolor Inn such as The Ritz-Carlton Naples, The Breakers Palm Beach, Long Boat Key Club & Resort among many others.
As a resident here on 30A, I would have to believe that the natural beauty of our beaches here is perhaps the single biggest factor, among many others, that contribute to such a lofty position on the list.  Over the years, I have been on most beaches in Florida from Ponte Vedra in Jacksonville down the east coast of Florida all the way through Miami Beach and South to Key West as well as up the West coast through Amelia Island and Naples all the way to Pensacola