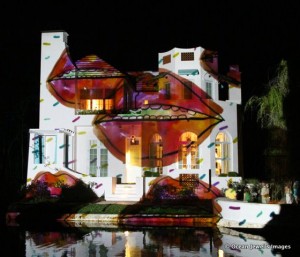 Digital Graffiti Details!
A red carpet party, DJ from New York, signature cocktails, surprise displays and interactive exhibits all make for the most exciting weekend on 30A with the Fifth Annual Digital Graffiti Festival scheduled for June 8-9th at Alys Beach.
"We have traffic on the Digital Graffiti website from all over the world – nearly 100 countries! It is amazing how Digital Graffiti has put Alys Beach, 30A, Florida, and the US on the map for digital art," said Kelli Siler of Alys Beach.
Music has always been an integral part of Digital Graffiti, particularly when the party on Saturday night is in full swing at the Caliza Pool. This year will be no different with guest DJ Chachi flying in from New York to spin tunes from a very special location at the pool on Saturday night. Check him out at djchachi.com
In addition to the juried works of art are several interactive exhibits including JD's Funhouse from Panama City. A video image of yourself is projected, filtered and then you are portrayed as rock star, circus performer, or avatar option. This display will be placed in Central Park for all guests to enjoy
FRIDAY, JUNE 8:
Friday night's Gallery Stroll will allow guests to interact with the artists in a more intimate salon-style setting with the Caliza Restaurant taking a limited number of reservations for dinner. There will also be a cash bar at the Caliza Pool, but no party.
SATURDAY, JUNE 9:
Join VIE magazine as they team up with Digital Graffiti at Alys Beach, Florida to introduce "me + vie = dg: Meet me at the Red Carpet," a pre-party for all festival attendees. The red-carpet event will be held at Fonville press on Saturday, June 9 from 6:00 to 8:30 p.m.—until the gates open for the Digital Graffiti festival. Kick off the night with pre-festival cocktails, tapas, and photo opportunities, all to the music of a live DJ. Along with VIE's complimentary signature "VIEtini," wine, beer, champagne, and tapas will be available for purchase. Photos of the party will be published in the JULY/AUGUST 2012 issue of VIE and online at viezine.com. The party is free for Digital Graffiti attendees. Meet me at the Red Carpet" at Fonville Press with your friends to kick off the evening.
TICKET INFORMATION:
Adult tickets are $30 for Friday night's Gallery Stroll, and $50 for Saturday night.
Children's tickets (12 and under) may be purchased for $10 for each night online at digitalgraffiti.com or at Fonville Press in Alys Beach. This event will sell out so advance purchase of tickets is strongly recommended.
For more information, please email Kelli Arnold at events@alysbeach.com, call (toll-free) 1-866-481-8390 or visit www.digitalgraffiti.com.
.