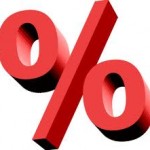 30-Year Fixed Mortgage Rate up for the First Time in 8 Weeks
Mortgage rates for 30-year fixed mortgages rose this week, with the current rate borrowers were quoted on Zillow Mortgage Marketplace at 3.42 percent, up from 3.39 percent at this same time last week.
The 30-year fixed mortgage rate hovered between 3.4 and 3.45 percent for the majority of the week, dropping to the current rate this morning.
"Mortgage rates remained close to last week's record lows as weak retail sales figures set a somber stage for earnings reports expected from dozens of major companies this week," said Erin Lantz, director of Zillow Mortgage Marketplace. "While this week's earnings news may signal near-term changes in the condition of the U.S. economy, Fed Chairman Ben Bernanke's testimony on the state of the economy will do more to set expectations for the rest of the quarter. However, unless Bernanke's testimony suggests that more stimulus in the form of QE3 is imminent, we expect rates to remain fairly flat as market participants wait for further indication that an economic recovery or additional stimulus is on the way."
ditionally, the 15-year fixed mortgage rate this morning was 2.85 percent, and for 5/1 ARMs, the rate was 2.54 percent.