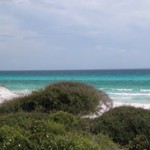 Deer Lake State Park is truly one of South Walton's best-kept secrets. The beach here is isolated and undisturbed. Quiet your mind and listen to the sounds of the sea gulls, the rustling of the wind through the palmetto fronds and the chirps of the snowy plover. The quarter-mile dune boardwalk at Deer Lake State Park is truly incredible. It provides astounding views and is ideal for those who are not able (or do not wish) to trudge along a sandy path. For the more adventurous, try hiking the half-mile Blue Trail which borders Deer Lake, one of South Walton's rare coastal dune lakes.
Deer Lake State Park is the relocation site for the endangered Choctawhatchee Beach Mouse, which lives within the expansive dune system. If you're quiet (as a mouse), and a little lucky, you might even spot one of these little white mice from your boardwalk perch.
If you want to get away from the crowds for a little while, it doesn't get much better than this treasured spot.