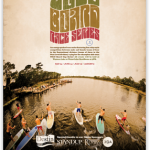 Summer comes alive in South Walton around the time school lets out, or the annual YOLO Race Series starts, whichever comes first. This year the start of the race series coincides with the end of school on Thursday May 24.
Alice Cooper was visiting SoWal a couple of weeks ago. Somebody needs to tell the YOLO crew to kickoff the first race this year with his iconic anthem from 1972, "School's Out" (for Summer!).
The event is an energy-packed race series featuring fun relay-style competition between male and female teams of four in the Recreational division (teams of three in the Next Level division) vying for the champion title 2012 YOLO Board Cup Series! All events will be held at Western Lake at WaterColor BoatHouse at 5PM – May24, June 14, July 19, August 9.
All events are free and open to the public. YOLO boards will be available for use at each race event. All events will be run on YOLO 12′ recreation boards and YOLO 12'6″ Predator race boards.