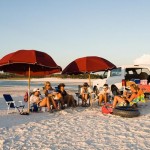 Tips for Liv'n the Beach Life!
Grayton Beach is in the heart of South Walton and has a rich history with great traditions for locals and visitors. Here are a few insider tips for can't miss things to do in Grayton Beach.
Be at the Red Bar at noon on Sundays for live Dread Clampitt. You'll need to arrive early to get a table in the front room. The Red Bar has great brunch or lunch selections and the Bloody Marys are the best!
The Western Lake outfall on Grayton Beach is a wonderful place to hang out and let the kids play. It's a warm and shallow, natural "kiddie pool". Just walk straight out from the public beach access behind the Red Bar.
Take a slow walk around Grayton Beach and check out all the cute beach cottages and funky houses. Many of the cottages were moved to Grayton Beach decades ago from nearby Point Washington when the old sawmill closed.
The public boat ramp just east of the Red Bar on Western Lake is a great place to launch a kayak or paddle board. You can paddle in to the state park or out to the beach. Local kayak rental companies will deliver for you.
Relax and enjoy an organic breakfast or lunch at Hibiscus Coffee & Guesthouse – keep an eye out for live music in "The Backyard of Love".
Take a hike on the dune trail at Grayton Beach State Park. The trail in, around, and through the dunes is a memory for a lifetime. Look for the sign with the "Prayer of the Woods".
Just some of the few tips that Grayton Beach and other South Walton Beaches offer!